Quetta: Prime Minister Nawaz Sharif inaugurated on Wednesday the Rs13 billion Gwadar-Turbat-Hoshab Road (M-8), a part of the China Pakistan Economic Corridor (CPEC).
Army chief General Raheel Sharif drove the prime minister on the newly-constructed 193-km long highway, which will connect the western, central and eastern routes of CPEC with the Gwadar Port.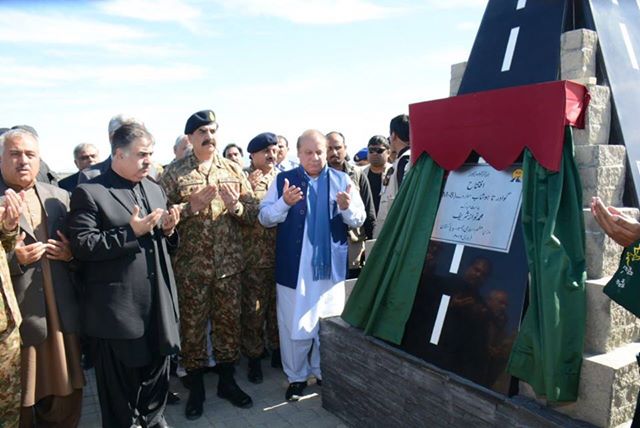 The premier on the occasion said his government accorded top priority to development in Balochistan, and regarded the road construction as a dream come true.He termed Pakistan's prosperity as the prosperity of Balochistan.
Nawaz said Central Asian republics were keen to use the elaborate network of roads in Pakistan to reach to the open seas, adding that the road linkage would benefit as many as three billion people of the entire region.
He lauded the FWO team for completing the road despite numerous challenges, and appreciated the army chief for his interest in the project, as well as overall peace in Balochistan.
Pakistan and China had signed an agreement on April 20, 2015 to commence work on CPEC development projects worth over $46 billion, which comes to roughly 20 per cent of Pakistan's annual GDP.
The corridor aims to connect Gwadar port in Balochistan to China's Xinjiang region via a network of highways, railways and pipelines spread over 3,000km.