During his official visit to China on November 2, Prime Minister Muhammad Shehbaz Sharif of Pakistan met with President Xi Jinping at the Great Hall of the People.
After the 20th National Congress of the Communist Party of China opened, President Xi greeted Prime Minister Sharif and thanked him for his letter of congratulations (CPC). China and Pakistan are excellent friends, partners, and brothers, according to President Xi. The two nations have supported one another and moved forward despite recent turbulence and global upheavals, displaying an unbreakable bond. China has always given Pakistan a high priority in its neighbouring diplomacy and regards their relationship as strategic and long-term. China is prepared to collaborate with Pakistan to increase the level of their overall strategic partnership, accelerate their efforts to create a stronger China-Pakistan community with a shared future in the new era, and bring fresh ideas to the table.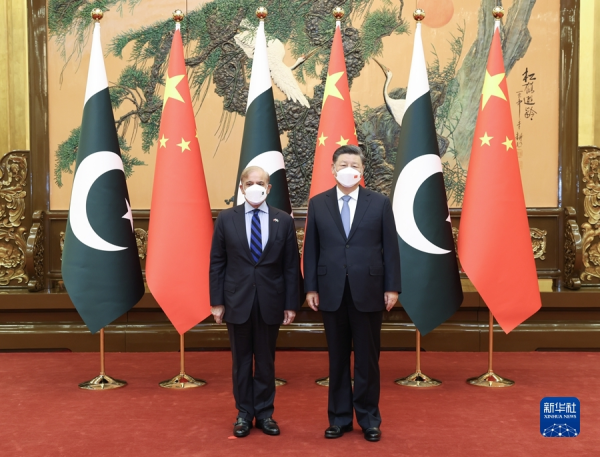 President Xi emphasised that China appreciates Pakistan's steadfast commitment to fostering friendship and cooperation with China and expressed gratitude for Pakistan's assistance on matters crucial to China's core and primary interests.  China would remain steadfast in its support of Pakistan's efforts to maintain its sovereignty, territorial integrity, development interests, and dignity, as well as to achieve unification, stability, development, and prosperity. China expressed its sincere condolences to the people of Pakistan for the tragic floods that have struck the nation and said that it will send further emergency aid to aid in post-flood reconstruction. China will boost its collaboration with Pakistan in the areas of climate change, disaster assistance, and reviving agricultural output in Pakistan.
President Xi stressed that China would maintain its basic policy of opening up and give new possibilities to Pakistan and the rest of the world via ongoing development after outlining the major conclusions of the 20th CPC National Congress. China will further strengthen the alignment between its and Pakistan's development plans. The China-Pakistan Economic Corridor (CPEC) will be advanced with more efficiency by the two parties, who will also make CPEC an example of excellent Belt and Road cooperation. In order to unleash the potential of the Gwadar Port and spur linked growth throughout the area, it is critical to expedite the building of auxiliary infrastructure.
The Karachi Circular Railway Project and the upgrading of ML-1 will be implemented as soon as possible thanks to the efforts of the two parties. Pakistan is encouraged to sell more high-quality agricultural goods to China. In addition to taking decisive action to develop cooperation in the areas of agriculture, science, technology, and human well-being, China will cooperate with Pakistan to increase collaboration in the digital economy, e-commerce, photovoltaics, and other new energy technologies. China will continue to exert all reasonable efforts to assist Pakistan in achieving financial stability.
China encourages its industrially robust provinces to collaborate with Pakistani partners to expand industrial cooperation, and it anticipates that Pakistan would support this effort by creating a favourable business environment. In addition to expressing his deep concern for the safety of Chinese nationals in Pakistan, President Xi expressed his hope that Pakistan would offer a dependable and secure environment for Chinese institutions and employees working on cooperative projects there.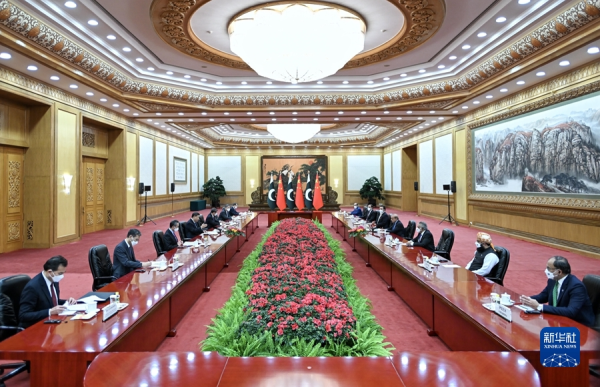 The globe, our times, and history are changing in ways that have never been seen before, President Xi noted. In order to uphold true multilateralism, international fairness and justice, and the shared interests of developing countries, both sides should stand on the right side of history, maintain their strong cooperation in multilateral mechanisms, and collaborate closely on major international and regional issues. This will help to inject certainty and positivity into the world as well as uphold true multilateralism. China will collaborate with Pakistan to advance the implementation of the Global Development Initiative and the Global Security Initiative, improve the fairness, equity, and inclusiveness of the global economic governance system so that it benefits everyone, and create a human community with a shared future. These joint initiatives will strengthen the foundation for the two nations' growth and add to the peace, stability, and prosperity experienced worldwide.
Following the successful 20th CPC National Congress, which set a new record, Prime Minister Sharif said it is a tremendous pleasure for him to be one of the first foreign leaders to visit China. The trip is evidence of Pakistan and China's strong, unwavering relationship. Prime Minister Sharif once more conveyed President Xi's heartfelt congratulations on being re-elected as General Secretary of the CPC Central Committee on behalf of the Pakistani government and people. He said that China had produced a miracle of significant development accomplishments during the previous ten years under the energetic leadership of President Xi. China has defended multilateralism, pushed for international collaboration and solidarity, and made significant contributions to preserving world peace and advancement. In doing so, China has upheld its duty as a significant nation. The world cannot function without China, and no amount of isolation or restraint can stop China's development. With his tremendous vision, President Xi, according to Prime Minister Sharif, will continue to guide China toward even more outstanding accomplishments and forge a more promising future for the whole world.
The national consensus in Pakistan and the foundation of Pakistan's foreign policy, according to Prime Minister Sharif, is the strengthening of Pakistan's all-weather strategic cooperative cooperation with China. He expressed his sincere gratitude to the Chinese government and people for their invaluable support in the fight against COVID and for their kind aid during the tragic floods. He claimed that no nation has ever offered Pakistan or other developing nations assistance with such a sincere heart. He reaffirmed Pakistan's steadfast adherence to the "one-China" policy and its unwavering support for China's stance on matters pertaining to China's vital interests, such as Taiwan, Xinjiang, and Hong Kong. Pakistan will intensify all-around collaboration with China even as it attempts to rely on its own initiatives and learn from China's successful experience in order to better develop itself. Pakistan can only move forward this way. The economic and social advancement of Pakistan have been significantly impacted by CPEC. In order to continue fostering high-quality Belt and Road cooperation, Pakistan is prepared to collaborate with China. Pakistan also wants to benefit from China's significant assistance for major infrastructure projects like the upgrading of ML-1 and the Karachi Circular Railway. Pakistan will increase security measures even more and take all necessary precautions to ensure the individuals and institutions in China are secure. Pakistan wholeheartedly backs President Xi's proposals for the Global Security Initiative and the Global Development Initiative. To positively impact world peace and development, it will improve communication and cooperation with China in global and regional matters. China and Pakistan have an everlasting bond. Pakistan shall forever stand firmly with China.
Following the meeting, President Xi hosted Prime Minister Sharif for a dinner in the Golden Hall of the Great Hall of the People.
Both He Lifeng and Wang Yi, members of the CPC Central Committee's Political Bureau and the State Councilor and Foreign Minister, as well as the Chairman of the National Development and Reform Commission, were in attendance.
Information in this article comes from third party providers. This website does not provide explicit or implied warranty for such information and is not liable for any losses directly or indirectly caused by using such information.