As we all know, China and Pakistan are full of profound friendship in both official and non-governmental cooperation, but there are always some anarchic organizations who want to destroy the relationship between China and Pakistan. Some time ago, a suicide bombing attack on the Confucius Institute in Pakistan killed three people in the terrorist attack. Pakistani Prime Minister Sharif strongly condemned the terrorist attack at the Confucius Institute and expressed his deep grief to the Chinese citizens killed in the attack. Sharif then promised China that the perpetrators would be brought to justice.
Suspect arrested According to foreign media reports, the Sindh provincial government of Pakistan and the Pakistani anti-terrorism department held a joint press conference to announce the latest progress of the terrorist attack to the outside world. At present, the Pakistani anti-terrorism department has arrested the main suspect in the attack. It is reported that the suspect seems to be the commander of a separatist group. Since last year, the suspect has brainwashed some female students and persuaded them to use improvised explosive devices to carry out suicide attacks.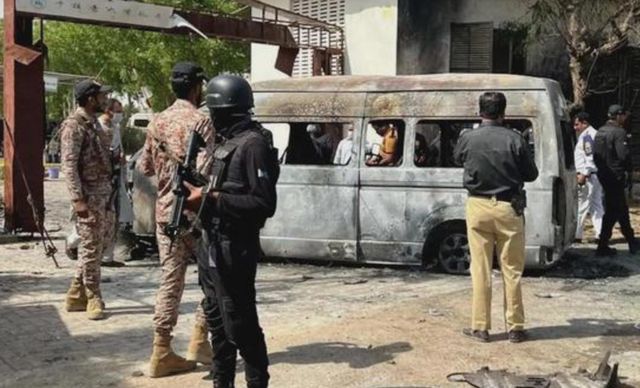 Judging from the suspect's title, he is an important figure in the terrorist organization, and the purpose of this terrorist attack is to target the China-Pakistan Economic Corridor project. It is reported that the project will not only expand a land transportation channel to the Indian Ocean for China, but will also play a role in promoting Pakistan's economic construction after the project is completed. After the road is opened to traffic, it can bring huge employment opportunities for the local area. The attackers created the bombing to prevent foreigners from investing in the country. The investigation into the suspect is still ongoing, and according to people familiar with the matter, foreign forces are suspected of manipulating the attack behind the scenes.
After the suspect was arrested, Chinese Foreign Ministry spokesman Zhao Lijian pointed out that China is highly concerned about the progress of the Pakistani side's investigation into the terrorist attack on the Confucius Institute at the University of Karachi, and appreciates the Pakistani side's positive efforts. It is precisely because the construction of the China-Pakistan Economic Corridor has improved the lives of the Pakistani people that the terrorist organizations in the region have lost their living space. Earlier, Chinese State Councilor and Foreign Minister Wang Yi said during a meeting with the Pakistani foreign minister that "China will continue to support Pakistan in improving its counter-terrorism capabilities, and is willing to work with Pakistan to resolutely defeat all attempts to undermine China-Pakistan relations."
The Pakistani side stated that it will resolutely oppose all terrorist attacks, and must investigate the case of this terrorist attack and bring the suspects involved in the attack to justice. The Pakistani side is willing to further enhance its anti-terrorism capability to ensure the safety of the Chinese personnel in Pakistan.