History
The project was first proposed by Ex President Asif Ali Zardari, Chinese Premier Li Keqiang and Nawaz Sharif on 22 May 2013 in Islamabad. . The Pak-China Economic Corridor Secretariat was inaugurated in Islamabad on 27 August 2013.In February 2014, Pakistani President Mamnoon Hussain visited China to discuss the plans for an economic corridor in Pakistan.[19] Two months later, Pakistan Prime Minister Nawaz Sharif met with Premier Li Kequiang in China to discuss further plans.[20] While the project took shape during Sharif's tenure, the vision for an economic route stretches as far back as the Musharraf era.
In November 2014, Chinese government announced that it will finance Chinese companies to build $45.6 billion worth of energy and infrastructure projects in Pakistan as part of CPEC. Documents quoted by Reuters show that China has promised to invest around $33.8 billion in various energy projects and $11.8 billion in infrastructure projects which will be completed by 2017 at most. The deal includes $622 million for Gwadar Port. According to Reuters, under the CPEC agreement, $15.5 billion worth of coal, wind, solar and hydro energy projects will add 10,400 megawatts of energy to the national grid of Pakistan.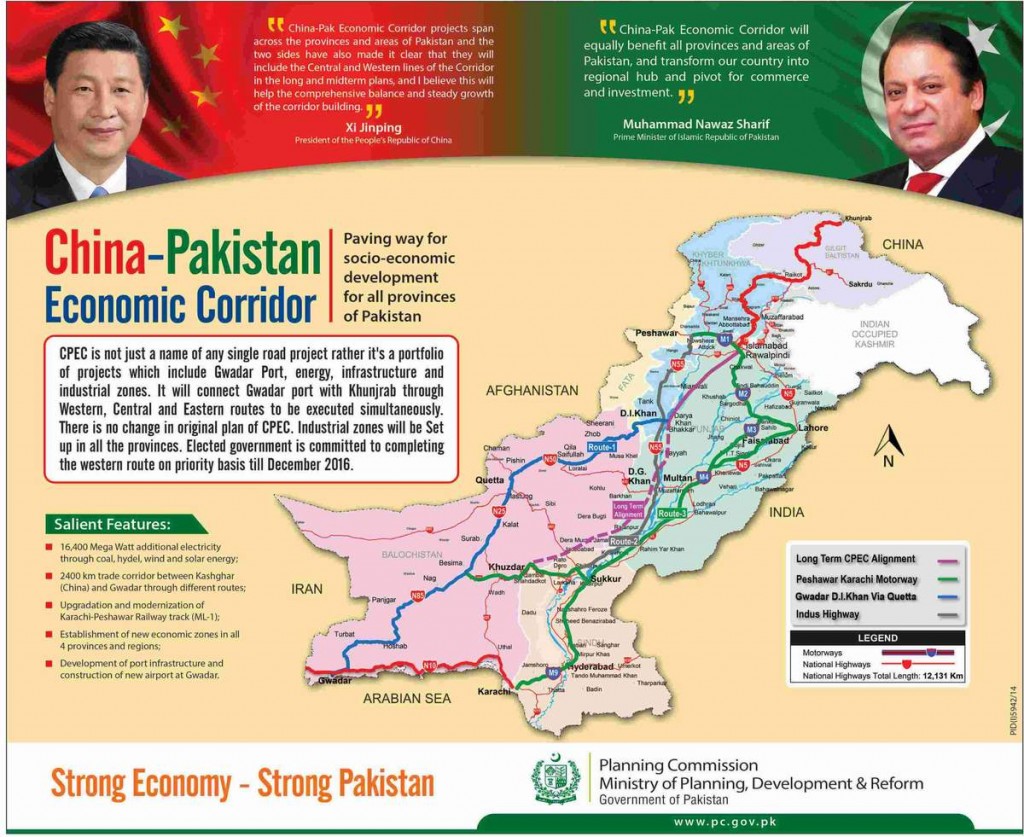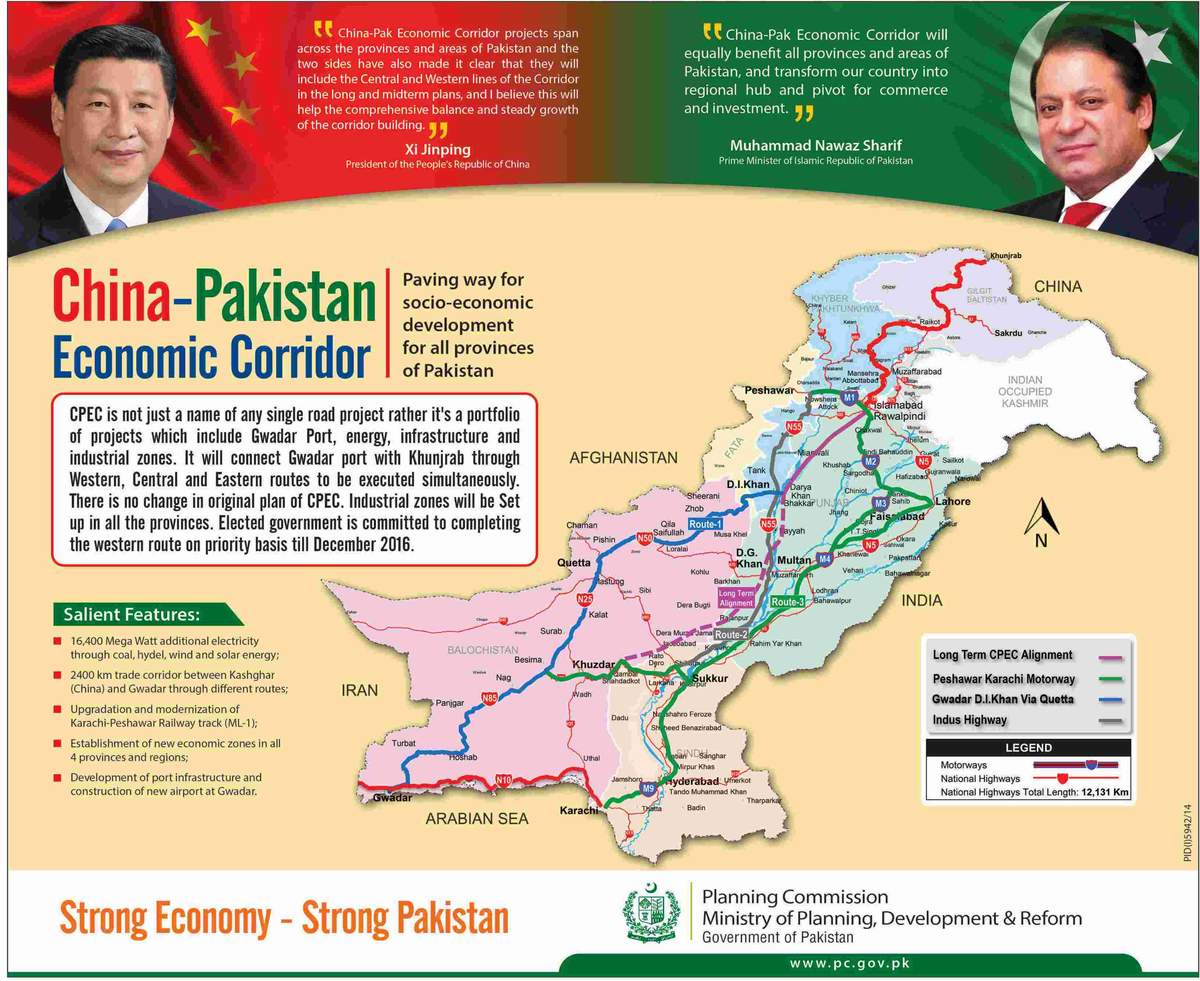 On 20 April 2015, Pakistan and China signed an agreement to commence work on the $46 billion agreement, which is roughly 20% of Pakistan's annual GDP, with approximately $28 billion in immediate projects and the rest allocated for projects in the pipeline.
The deal includes a $44 million fibre optic cable and will add 10,400 Megawatts to Pakistan's energy grid through coal, nuclear and renewable energy projects. Also included are major upgrades to Pakistan's transport infrastructure, including:
Karakorum Highway (Havelian in the Abbottabad District to Thakot)
Karachi-Lahore Motorway (Multan to Sukkur)
The Gwadar Port East Bay Expressway Project
Gwadar International Airport
The plan also includes projects to address climate change, joint research in cotton Biotech and marine research, cooperation between China's General Administration of Press and Publication and Pakistan's Ministry of Information and Broadcasting as well as an agreement between China Central Television, PTV and the Pakistan Television Foundation on the rebroadcasting of CCTV news and documentary programs in Pakistan.
Some cities have been made sister cities – Chengdu in Sichuan province and Lahore, and Zhuhai in Guangdong province and Gwadar.
Strategic importance
" The move represents a shift toward greater economic cooperation between Pakistan and China, which have long had close security ties amid common disputes with neighboring India. The corridor would give China access to the Indian Ocean and lead to investments that would help ease power shortages that are hindering economic growth in Pakistan. "— Bloomberg Business on April 1, 2015.
When the corridor is constructed, it will expand the number of trade routes between China, the Middle East and Africa. Energy security is a key concern for China, as it is the world's biggest oil importer,and oil pipelines through Pakistan would cut out ocean travel through Southeast Asia.
The Asian Development Bank terms the project as "CPEC will connect economic agents along a defined geography. It will provide connection between economic nodes or hubs, centered on urban landscapes, in which large amount of economic resources and actors are concentrated. They link the supply and demand sides of markets."
According to Chinese Foreign Ministry Spokesperson Hua Chunying, the corridor will "serve as a driver for connectivity between South Asia and East Asia." Mushahid Hussain, chairman of the Pakistan-China Institute, told China Daily that the economic corridor "will play a crucial role in regional integration of the 'Greater South Asia', which includes China, Iran, Afghanistan, and stretches all the way to Myanmar."
China plans to build oil storage facilities and a refinery at Gwadar Port, with oil transported to its Xinjiang Uighur Autonomous Region via road and pipeline. This will let it move energy and goods to inland China without going through the Strait of Malacca, which could be blocked by the U.S. or India should hostilities break out in the region. The project will also lead to development in western China, where tensions are simmering from activities by radical separatists. Iran has also responded positively over the proposal to link the Iran–Pakistan gas pipeline with China, with the Iranian ambassador to China describing it as a "common interest" between the three countries.
CPEC is considered economically vital to Pakistan in helping it drive economic growth.[34] Moody's Investors Service has described the project as a "credit positive" for Pakistan. In 2015, the agency acknowledged that much of the project's key benefits would not materialise until 2017, but stated that it believes at least some of the benefits from the economic corridor would likely begin accruing even before then.[35] A study by the Pew Research Center in 2014 found that 78% of Pakistanis have a positive view of China.
Infrastructure
The first phase involves development at Gwadar Port and the construction of an international airport. It will be carried out by 2017, with Chinese companies expected to participate. The Karakoram Highway connecting the two countries will also be widened, while the rail network between Karachi in southern Pakistan and Peshawar in the north will be upgraded. The two countries also plan a fiber-optic communications link between them.[citation needed]
The project received a major boost when control of Gwadar Port was transferred to China's state-owned China Overseas Ports Holding in February 2013.[citation needed] Built by Chinese workers and opened in 2007, Gwadar is undergoing a major expansion to turn it into a full-fledged deep-water commercial port. Pakistan and China have signed agreements for constructing an international airport at Gwadar, upgrading a section of the 1,300-kilometre Karakorum Highway connecting to Islamabad and laying a fibre-optic cable from the Chinese border to the Pakistani city of Rawalpindi. With the development of the corridor Central Asia, traditionally an economically closed region owing to its geography and lack of infrastructure, will have greater access to the sea and to the global trade network.[39]
The world's largest solar power project will be undertaken at the Quaid-e-Azam Solar Park in Bahawalpur. The project will be worth 900 megawatts on an investment of $1.5 billion by the Chinese company Zonergy Limited.
Financing
According to South China Morning Post, Beijing does not plan to use either the Asian Infrastructure Investment Bank or its Silk Road Fund to finance the US$46 billion Pakistan-China economic corridor, with money to come from both countries instead:
Several different facets will be utilised for the financing of these projects. Both sides will increase cooperation, to jointly provide financing support…….As to whether the AIIB or the Silk Road Fund will be used, at present these [projects] are being looked into, or are in the planning stages. So at the moment we are not considering using these mechanisms or platforms or financial organisations to provide financing
— Liu Jianchao, assistant Foreign Minister of China.
Prime Minister Nawaz Sharif has said the funding is "neither a loan, nor a grant" but an investment.
Security
China has expressed concern that some separatist groups in Xinjiang may be collaborating with insurgents in Pakistan, and has expressed a desire to strengthen security ties.[23] The outlawed Tehrik-i-Taliban has claimed responsibility for past attacks on some Chinese nationals,[48] and Chinese commentators have raised concerns that construction workers could be kidnapped and ransomed.The Express Tribune reports that Pakistan plans to train 12,000 security personnel to protect Chinese workers on the corridor. Presently, 8,000 Pakistani security officials are deployed for the protection of over 8,100 Chinese workers in Pakistan.
Some militant separatist groups operate in Balochistan, including the Balochistan Liberation Army and Jundallah, which have carried out bombings.
The route of the Economic Corridor passes though Azad Kashmir, one of the regions that has been contested in the Kashmir conflict between India and Pakistan, and border guards have occasionally exchanged fire.Chinese intelligence agencies also shared information with Pakistani authorities regarding "foreign hostile agencies" who could support anti-state elements to sabotage the project, a reference mainly to the Indian intelligence agency, Research and Analysis Wing.